"There's been a big hoopla on the internet about unschooling in the past week, fueled primarily by a deceptively edited and obviously biased piece on unschooling on "Good Morning America." Like most of the coverage served up on shows like this, the details of their take on this form of "extreme parenting" will soon be forgotten, but the lingering misunderstandings will remain. We unschool our daughter, Z, who will be turning 6 this summer, and since we've found it to be a wonderful, joyous experience - albeit one with its pros and cons, like any real-world, not-so-shocking parenting choice - we thought it might be helpful for those curious about homeschooling, and unschooling, to tell you a bit more about it. You might even decide that this lifestyle would work for your family!

What do we mean by unschooling?

In some ways, unschooling is one version of what most parents of public/private schoolchildren think of when they say "homeschooling." But for those who consider themselves unschoolers, it is also different from "homeschooling" in fundamental ways.

Most parents who choose to educate their children at home find structure and direction in recreating school practices in their home. They use textbooks, lesson plans, and course designs modeled after school experiences and segment learning in scheduled classes. The extent of these practices vary widely, in part because homeschoolers do benefit from the ability to tailor their "school day" to meet the needs of their children - tackling the most challenging subject areas in the morning, for example, when a child is fresh; organizing schooling around other activities or availability of parents (tag-teaming with another parent or rearranging class times to allow for special visitors or "field trips"); or allotting extra time for subjects a child finds more challenging.

Homeschoolers are driven by the knowledge that they are providing a specialized educational experience tailored to their beliefs or worldview that places their child at the center of learning and allows them to focus much more personal attention on helping their child learn than any teacher could provide. The social world of the "homeschool" is quite small - it often depends on how many siblings are also learning at home - but it can be more emotionally supportive as well as more supportive of learning than the public school classroom.

These are generalizations, and for every homeschooling parent who prides him- or herself on a tight academic schedule or an award-winning curriculum, there is one (or at least a fraction of one) who takes a more casual approach. But here's where unschoolers peel off from their homeschooling bretheren. While homeschoolers typically (again, generalizations) attempt to recreate an ideal version of a schoolroom within their own home and under their direct governance, unschoolers see most aspects of the typical school experience as symptoms of the institutional framework - the teacher holding forth in front of the students, the set sequence of subjects and timelines for mastery, and even the emphasis of breadth over depth in learning - that children who can be offered the opportunity to learn on their own should not be saddled with.

By now you are probably aware of which way we lean in our home education. We knew we wanted to "homeschool" before we knew whether it would be possible, but it wasn't long after figuring out that we could actually do this - through some personal and professional sacrifices and some much-appreciated family participation - before we realized that we were not interested in playing school at home. For us, it was a fast and fun slide into home educating radicalism, and we enthusiastically embraced (and wholeheartedly support) the broad aims and philosophy of unschooling, although every pedagogical method (like every lifestyle) has its pros and cons. (More on that in a bit.)

For us, unschooling means following Z's lead on what she wants to learn. The result is that sometimes we will spend days or weeks focusing on a single topic and sometimes we have a Q&A session where Z fires questions as quickly as she can, we answer them and our answer triggers her to ask a question related or unrelated (in our minds) to the answer. For instance, one night during a two-hour drive, Z wanted to know who "invented" electricity; we answered and offered a little about the topic and after an hour of questions were answering queries about human biology (the role of electricity in biomechanical processes and brain functioning) and death. For us, the goal has always been to answer her questions honestly, confess to any gaps in our knowledge, and let her take the lead on how in-depth she wants to go. We routinely identify things we need to look up in books or on the Internet or identify people we know who could answer various questions, and we do our best to follow up.

What is our role as unschooling parents?

We see our job as that of learning faciliators and, particularly at this stage of her life, as key introducers of new ideas. Z regularly brings us project ideas that she wants to work on and things that she wants to "investigate." In fact, she brings us so many of these ideas to create and investigate that we have no way to complete them all! Sometimes we try to guide her impulses in a thematic direction and make sure to link ideas together. Sometimes we just roll with her passions.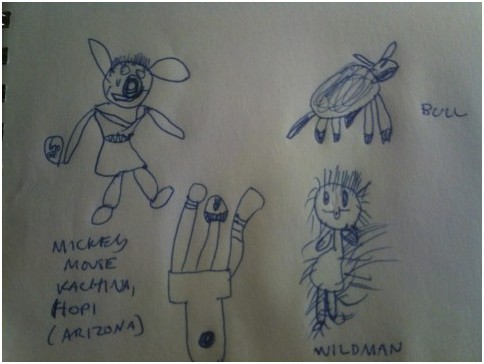 We spend a lot of time with books, from kid-friendly reference books to single-topic books to adult reference materials, and use a few worksheets when we find topics she really likes to drill on. We do a lot of "investigating" on the internet (YouTube is great for videos of how anything is made, and there are great materials online aimed specifically at kids to explain a lot of science topics). We also go through stacks of library books and videos and do as much hands-on learning as we can make happen. (What better way to learn about plants than to have a garden?) A five-year-old is at a stage where the sensory world is still of primary importance but descriptive and categorizing skills are becoming more important and serving as a foundation for critical thinking, so we do a lot of that. (Incidentally, we don't know these things about her stage of development because a chart or guide tells us that this is what a five-year-old "should" be doing; we know this because we spend so much time learning with our daughter that we know what motivates her and what path she's on.) We have taste tests where we explore the differences in say, a variety of apples or water from different places (learning about food diversity, using descriptive words, becoming aware of the palate, experimentation, ranking varieties and parsing out flavors. We take field trips - we go to art openings, zoos, museums, she travels with us for business, we visit relatives in other states, we go to big cities and to working history farms.
As she gets older, some of these endeavors will doubtless change shape. Some will become more serious studies of things she seems to have an ongoing interest in or to have a natural facility for. Some will require that we seek out more outside opportunities for her, such as mentoring, cooperative activities in our community, or independent investigations. A lot of things will change when she is a fluent reader and can do more topical exploration on her own, with less guidance from us.
But won't your child grow up without an understanding of rules and limits on their behavior?
We don't have an awful lot of rules in our home. The main one we try to live by and want to pass on to our daughter is the Golden Rule - "Do unto others as you would have them do unto you." We've had several conversations about it, and love this book about the Golden Rule. It's the rule that rules our house.
We have a chore chart but it's used infrequently, doesn't hold a lot of ongoing interest, and has no rewards associated with its completion. We ask Z for help when we need it and she does the same with us. These too are often learning experiences.
We do have a loose bedtime for Z but there are nights when she isn't tired right away and on those nights she goes to her room to lay in bed or read quietly until she's ready for sleep. When I say we have a bedtime, I mean that we have a time that Jeremiah and I aim to have Z to sleep - we have a before bed routine that we've established over the years that includes teeth brushing, silent reading, time with dad and time with mom alone.
If we start the routine more or less around 7:30, she's usually drifted off to sleep by 8:45 or 9:00. But because she doesn't have to operate at any specific level in the morning, we feel more free to facilitate her transition from play to bed just as we facilitate her other activities. We do limit her TV time and her viewing choices at this point but we've considered changing that as she gets older. The only other main thing that we limit at this point is candy, although we've had some struggles with that and are considering an unlimited sweets system.
So clearly, we are comfortable living in an environment with few strict limits on behavior. This is part of why unschooling suits us fairly well. To paraphrase one unschooling advocate, whose name escapes me at the moment, unschooling is providing for a child's education with as little structure as the parent is comfortable with. To us, this means allowing her to steer her own education in directions she is most inerested in. Passion translates very well into rapid and meaningful learning, and means that she may advance faster in some topics than curriculum-driven children, and more slowly in others, based on her interests and drives.
How can an unschooled child learn discipline?
Our philosophy is that at some point Z will find something that she is passionate about enough that she will be disciplined enough to work through any issues or difficulties she might have. Actually, she's already taught herself how to ride a bike without training wheels (when she fell, she got back up on that bike and rode it!) and she practices violin on a near-daily basis, most of the time with gusto. I do not, as an adult, generally force myself to eat things I don't care for (I do try to taste a bite) or to "push through" and just do something because I feel like I have to. I don't particularly enjoy exercise but I do it anyway because I want to be healthy - but that's my motivation - I'm not doing it because someone told me I have to. I can't think of anything I do that I'm forced to do - I pay my taxes and I'm not thrilled about that but choose to pay them so I don't go to jail; I choose to work so I have money to live the way I want to live. Unschoolers believe that children should be permitted to find natural sources of motivation just as adults do.
If we didn't have rules and let our kids pick what they wanted to do, they'd spend all day doing x, y, and z!
Kids accustomed to rules and requirements about how they spend their day who are suddenly given freedom do tend to go a little nuts (see college freshmen) but for kids who have grown up with few rules and the freedom to choose tend to make pretty good choices. If you take a child out of school and experiment with unschooling, you've got to give that child some time to "deschool" - to get all those rules and restrictions out of his brain and body. Face it, if you were suddenly given time off work and told to do whatever you wanted would you do all the things you've been waiting to do but haven't had time to do it or would you wake up bright and early the next day and get straight to work? Yep, that's what I thought.
When we arrived home on a recent evening, Z asked to go out and work in the garden, so we did: I weeded while she and Jeremiah harvested greens (wild and cultivated) for a salad (her idea to make one) which she then came in and made for our family for dinner. Yesterday she asked if we could work on an atlas project (a long-term project we've been working on) that has been shelved for several months. Yes, there are days she just wants to watch TV, but most days it never even comes up.
But if you don't teach them, how will they be prepared for a career in x, y, z or what if they want to go into a science/math field?
What we are teaching Z is how to learn. We are teaching her how to access resources, how to do research, how to find information she wants, how to address her curiosity in a constructive way, and how to attain skills that she's interested in learning. In high school I was required to take a geometry class - I countered that I knew I would never need to know geometry - and guess what? The only time I needed geometry since high school (which, trust me, was many, many years ago) was a month or so ago. Did I moan and groan that I wish I'd paid better attention in geometry? (My geometry teacher, by the way, slept through most of our classes.) I did not. I went to the internet, Googled it, and learned how to do what I needed to do in about 10 minutes. I still regret that I wasted all that time in a subject I had no interest or desire to learn.
Saying that unschooled children won't be prepared to study in a math or science field is basically saying that either 1) there's no way to learn math or science without a teacher or 2) that children are not inherently drawn to math or science. If you break it down that way, it's clear that both of those ideas are ridiculous - it's just as easy to learn math or science as it is to learn how to read or to learn how to write or draw - you just need the motivation to do so. Gone are the days when you made a career choice in high school and stayed in that career - or even maybe the same company - for your working life. Now you make a choice - maybe in college, maybe before and you figure out the path you need to take to attain that career goal. So what does an adult do when they want to change careers mid-life? They do the same thing - they figure out the path that need to take to attain that career goal. They don't just say, well, it's too bad I didn't study art or music or math in high school, guess I can't be an artist, musician or mathematician. No, they say, well, I need to do X to get there and then they do it. And ultimately, that's how unschooled kids achieve career goals too.
Of course, just as the world of information, life skills, and so on changed from our parents' generation to ours, it may change again by the time our children are grown up. But from our perspective, we're preparing a child who will be ready for just about anything she wants to do.
What about socialization?
Like most unschoolers and homeschoolers, Z socializes with a wide variety of people. Since she's not in school all day encouraged to only interact with children her own age, she has opportunities to interact with all ages of people every day, and does. Sometimes we go to homeschool "park days" where kids of all ages meet up and play. Sometimes we go to a store where she chats up the cashiers (and just about anyone else who will listen). Sometimes we visit with a friend with a younger child and Z is more than happy to show the younger child the ropes. She's also learning violin, which while is an individual lesson, gives her the opportunity to perform with children younger and older than her and even with adult music students. Since the majority of people that she interacts with on a day to day basis are adults, she is quite comfortable talking with adults and can hold a conversation better than some adults that I know. In fact, one of our pet peeves is when Z asks a direct question of an adult and the adult directs their answer back to me instead of to her or ignores her completely. Many adults she encounters seem so ill-equipped to interact with a child as a sentient person that they simply do not hear her when she talks to them.
Give me some examples of your unschooling.
Our days vary a lot. I work part-time and Jeremiah works full time out of the home so Z spends at least a little time most every week day with her grandmother. (Yes, it was hard to convince my mother about unschooling too but she seems to have come around to the idea.)
In the past month we've covered:
Math: Sorting, graphing, adding, subtracting, and counting M&Ms, dividing fresh from the garden strawberries for the family to share, dividing allowance into three different jars (spend, save, give), counting money, budgeting money, saving money, time telling, experimenting with a spirograph, and estimating
Language Arts: She reads to us most nights, we read to her every night and sometimes during the day as well, writing her own books, writing a list of all the words in a single word family that she knows, oral storytelling, retelling stories or events of the day, writing letters to family.
Science: Planting and maintaining a garden, learning about periennal and annual plants, weeding, hatching spiders, keeping snails in a habitat, talking about conservation of resources, snakes, lizards, collecting shells and investigating them.
Health: Watching Jamie Oliver's "Food Revolution" and discussing healthy food choices, cooking, personal hygiene, etc.
Art Drawing on a near daily basis, drawing in storytelling, diagramming and mapping out things, painting, looking at art, talking about art.
Music: Near daily violin practice, sight note reading, how to write notes, music composition (she is very interested in making up melodies right now).
Phys. Ed: Bike riding, dance.
Community Service and Citizenship: Picking up trash in the neighborhood, listening to NPR on the radio (seriously, her favorite show is "Wait Wait, Don't Tell Me!"), learning about the ethical treatment of animals.
This doesn't count a recent trip to the beach with her grandparents where she learned independence (her first three-day trip away from home), explored the ocean, and built on her extended family relationships or a visit from an out-of-state grandmother and out-of-town cousins, both younger than her, to whom she was a gracious host.
Why not just send Z to school?
Jeremiah and I have known we wanted to homeschool since before we were even married. We both felt that the hours that we spent in school were not worth the return on our investment if we had to do it over again. We also wanted to be able to travel at any time without having to worry about unexcused absences or taking busywork to complete on a trip (I'll never forget the time my parents wrote me a sick note when I went to Disneyworld with my dad; he's in the construction business which means that summers are swamped for him and the only time he could take a real vacation was in the winter. The school said that wasn't an excused absence and I'd get zeros for any work I missed while I was out. Both of my parents - divorced by then - thought that was ridiculous, so they just wrote me a sick note.)
We also dislike many of the decisions that the Texas State Board of Education makes, so that weighed heavily in our decision as well. When I first thought about the idea of homeschooling, I imagined playing teacher at home - a nice little chalkboard with one of those cool chalk covers that the teachers always got to use so their fingers didn't get dirty, a little room where I could hang up my own teacher posters and I'd teach and my children (oh yes, I wanted six of them at that point) would sit quietly and listen. (Ha!)
But then, in the many, many hours that I had to do nothing while Z was nursing I started reading books about homeschooling. Somehow (I don't remember how at this point), someone put John Holt's book Teach Your Own in my hands and my life (and my ideas about homeschooling) changed radically. From Holt, I went to Alfie Kohn's Unconditional Parenting: Moving from Rewards and Punishments to Love and Reason. It isn't technically about unschooling but it is about systems of reward and punishment, which drives a lot of schooling. From there I went on to read Mary Griffith's The Unschooling Handbook: How to Use the Whole World as Your Child's Handbook and from there to Lawrence Cohn's Playful Parenting. It all seemed to just mesh together at the right time with our other child-rearing philosophies, and unschooling became our new path to take.
Why not use a curriculum?
Once I read the books mentioned above, all of my former ideas about how to homeschool went out the window. Add to this that Z is often resistant to do worksheets or activity books (she'll go on an occasional binge where she'll do workbook type activities but usually resists them) and unschooling presented itself again as the path to take. We do occasionally look at sample curricula on-line - sometimes we gather ideas from them of books to read or activities to do or projects to toss out to Z as bait. Sometimes Z wants to do a workbook or use a computer program (we like Kumon books and Mia Kutoka's software) so we have a few of these around, but again, they are used when Z wants to use them.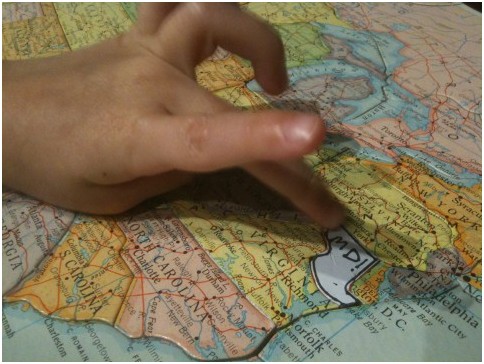 We are not opposed to curricular materials per se, but to their use in governing what is learned when. We have made great use of Hooked on Phonics materials and they have been instrumental in Z's learning to read. But we have found that she has a very particular way of going about it, and this usually involves very intensive and enthusiastic work on reading over the course of a day - sometimes she will want to work on reading four, six, or eight hours solid, with breaks for meals and short play sessions but really working through some reading challenges - and then won't want to try to read anything for two weeks straight. It's weird, but she makes so much progress during those cram sessions, it just works. She is learning to read fairly quickly, and we make sure she understands just what kind of freedom that will offer her. Given the environment she has been educated in so far, she finds this freedom highly motivating and takes a great deal of pride in her reading abilities.
What are the biggest challenges of unschooling? The biggest drawbacks?
Sometimes the lack of structure can be unsettling. Sometimes you might wonder what your child is learning, if they are "keeping up" with other kids. Sometimes topics seem to get picked up and then abandoned before you can do much with them - either because the child loses interest or, more often, because the parent lacks the time or the organizational resources to keep the topic alive. Sometimes you can drive interest out of a topic by providing too much or too little input.
We could probably do better at making sure that ideas Z is interested in learning about are explored as far as her interest will take her; it is hard to tell at this point if we should play a larger role in helping identify learning themes and keeping track of ideas for her so she can continually explore them in greater depth. She is at an age where she still looks to us for a lot of ideas and entertainment and we might make better use of that than we do. Sometimes we feel pressed for time or too harried and half-finished projects are abandoned or worse, never started. Doing things on more of a schedule might counteract some of these problems, and we do try to schedule a bit. Sometimes our other obligations intrude and push those learning projects to the side.
Z has many friends, but few her age that she sees regularly, and none as regularly as children who are in school do. Socialization in public schools is not necessarily all good - many children are very poorly socialized by the public school system - but regular time with friends you choose to spend time with is one of the benefits of a school setting. Again, this is something that we could probably do a bit better about, rather than a shortcoming of homeschooling or unschooling itself.
We generally don't think of these problems as signs that we have chosen an educational method that "doesn't work," any more than the downsides of a job indicate that you are in the wrong career field or any more than having a cheese sandwich is "wrong" because you aren't having a PB&J. Every path has its pros and cons. Some of the challenges we face as unschoolers are ones public school parents might face as well, now or later. Others are unique to our path, but allow us to avoid some big disadvantages of other educational models. Such is life.
We also do have some outlets for our desire for guidance and structure, ways that we moderate and adapt the unschooling journey to our own personalities. We maintain lists of the learning standards used in public schools in Texas so we have a sense of what those kids are covering each year, and challenge ourselves to make sure (although in ways that are largely driven by Z's interest) that she is being exposed to the variety of skills and concepts that are covered in public schools. But one of the key freedoms of unschooling (practiced to a lesser degree by many homeschoolers) is the realization that the sequence and benchmarks of many learning milestones are somewhat arbitrary. It is not that children should not need to learn many of these things; they should. It is not that many of them are not best mastered within a general age range; they are. But a child's interests, if followed, will inevitably mean that your kids are far "ahead" of other kids in some areas and far "behind" them in others, based on their interests.
What are the key advantages that make unschooling the right choice for you?
Our lives are very flexible. We feel that we are active participants in her education and that we are all learning all the time. We experience wonder with her on a regular basis. We get to explain things in fun ways and explore topics with her. We spend a lot of time outside, have a lot of interesting conversations, and are confident that she will not have the desire to learn drummed out of her by mismanaged schooling. We are able to allow her to focus on things she is very interested in and seems to have a natural affinity for, and develop herself deeply in those areas. Peer pressure and conformity are not really issues in her life. We have an intimate knowledge of the things that interest her, and find it interesting to find connections between these things, and to extrapolate from them what kind of person she is and is becoming, in a way that parents less directly involved in their children's education probably aren't. She has no idea that there is even such a thing as a person who thinks (or thinks they think) learning is boring.
The key to unschooling is recognizing that learning happens all the time if we let it, and that children are fantastically enthusiastic about this happening, if it is not drilled out of them by forcing them to "study" things they are not interested in. There are opportunities to learn and to teach at any given moment. When we take a road trip, Z will look at the traveling blue dot on our iPhone's google maps and she's familiarizing herself with map reading, with geography, and with the use of technology. When we go to an art show, Z is learning how to look at art, how to talk about art, how to act in social situations. When she got her ears pierced, Z learned about hygiene, making safe choices, and confronting her fears. We do not sit at home all day each of us doing our own thing. We are out and about and in the world - she is socializing and interacting with people of all ages - from babies to adults and it is natural to her.
Her learning, much like our own learning as adults, ebbs and flows - some days she wants to play with her dollhouse all day but even then, as parents, we must recognize that as valuable time for her to process interpersonal relationships (she is often acting out events that happened in the past through her dolls) and for her to hone her storytelling skills (she talks her way through her play narrating the characters movements and words). We must trust that she will lead us to her interests - that we may throw ideas or subjects into her path and she will pick them up and study them or discard them. Unschoolers trust that their children are interested in learning about the world around them, and see themselves as guides to help children make the most of that innate drive to learn.